Gunther Volvo Certified Pre-Owned Vehicles. Safety In Service
You've got to go with Volvo certified pre-owned vehicles from Gunther Volvo Cars. We're the name you know in Coconut Creek, FL, for exceptional service, fantastic vehicles, and great selection. When it comes to our certified pre-owned inventory, we know that you'll find something that you love. But we know that loving a car often includes some other important factors that we'll discuss on this page.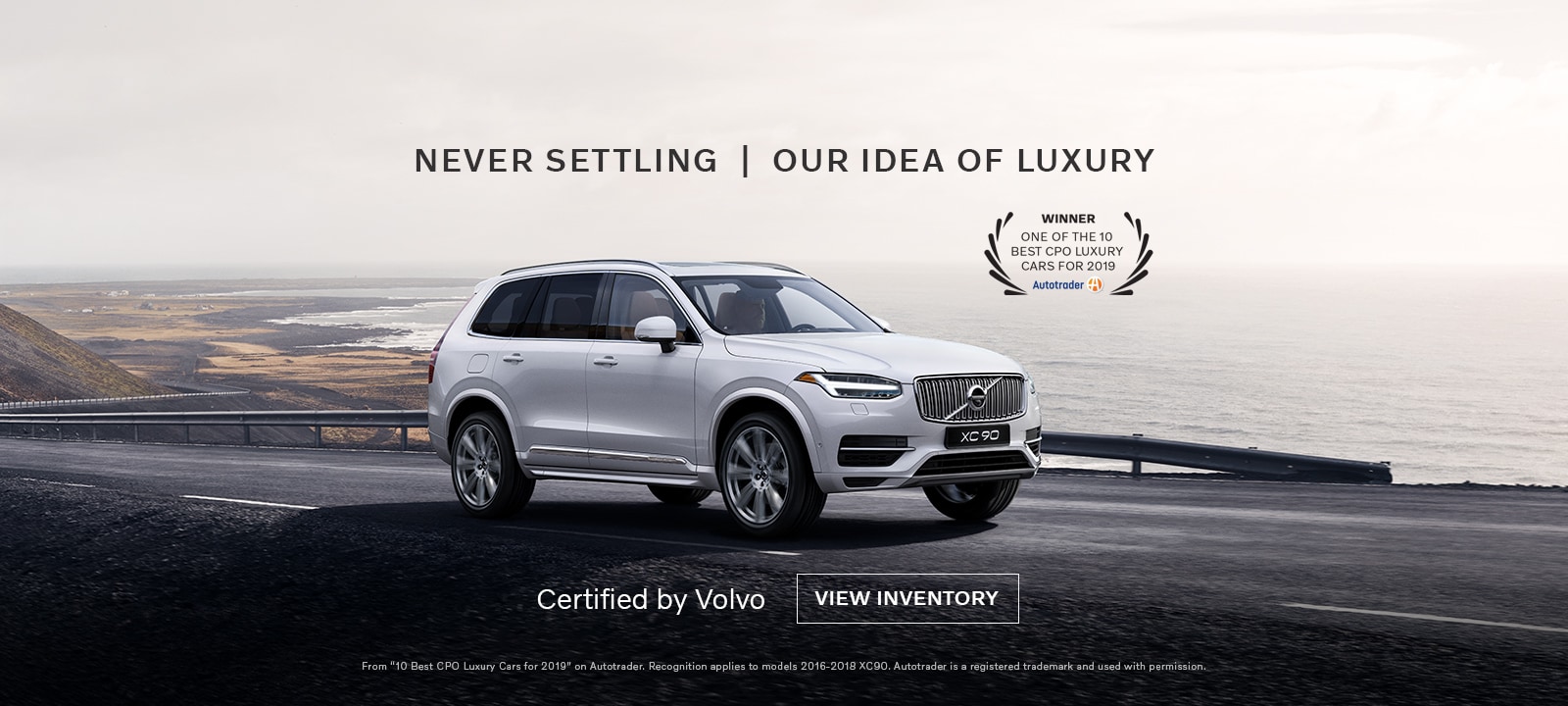 Volvo Certified Pre-Owned Vehicles at A Glance
So, what is a Certified by Volvo vehicle? Where do they come from? What models are available? What are the benefits? These are great questions, and we'll outline the answers to them now. Nearly all certified Volvo used cars, wagons, and SUVs, are recent lease returns or trade-ins that are only a few years old. Here are a few favorite models:
The Volvo XC90 - This is our flagship SUV, and if you're looking for the highest level of family convenience, you'll find it in one of our Volvo XC90 certified pre-owned SUVs. With room for seven, leather seating, ADAS driver controls, a panoramic glass sunroof, smartphone connectivity, and a refrigerated glovebox, there are plenty of standard comforts and optional accessories to fall in love with. Find your lovingly used Volvo XC90 SUV now.


The Volvo V60 - These performance wagons are the perfect blend of SUV-like versatility (yes, that's why these models begin with a 'V") and car-like road manners. There are many great accessories like rooftop cargo solutions, all-weather protection, and pet carrying equipment. For those looking to get "Fluffy" to the vet in a hurry, ask about the Volvo V60 trim from Polestar with 415-hp, Brembo brakes, an enhanced chassis, and tunable suspension.


The Volvo S90 - A Volvo S90 certified pre-owned vehicle offers stately elegance with immense capability. Imagine having leather seating, wireless charging, 316-hp, ADAS safety, keyless entry, and AWD as standard fare on any trim. The Volvo S90 brings you all of this and more. Class, comfort, and performance are best served to a party of five. And with this model, there's more than enough room at the table.
&nsbp;&nsbp;&nsbp;
Discover all of our used Volvo Cars for sale to ensure you find the perfect color, body style, options package, and price point. Email one of our specialists when you find a favorite (or two) to schedule a demonstration.
A Warranty as Strong as Our Cars
When you're looking to take home all the benefits from the brand you love, there's nothing like generous savings in addition to the peace of mind that comes from our Volvo Certified Warranty. Key benefits include:
A 170+ point vehicle inspection
Mileage under 80K
A CARFAX buy-back guarantee
A 5yr/Unlimited-mileage powertrain warranty (expandable to 10 years)
Full transferability
24/7/365 Roadside Assistance
A complimentary trial to Volvo On Call connected services
$0 deductible repairs
And so much more. Find your favorite Volvo certified pre-owned vehicle and ask your vehicle specialist if there's a special CPO finance rate.
Your Certified by Volvo Benefits
Another benefit of owning a Volvo certified pre-owned vehicle includes complete transferability. That means the CPO warranty follows the car. Should you ever gift her to a first-time driver in your family or sell her to an outside party, the balance of the CPO warranty will belong to the new owner. This particular benefit adds value to the next owner and often helps you collect a higher sales price over comparable vehicles without a CPO warranty. Sound good? Don't wait. While the promise of a Volvo certified pre-owned vehicle brings you many things, the one thing we can't promise is that she'll be in stock if you delay. Let us know which one is your favorite, and we'll have her out front waiting for you.