As a parent or guardian, you know that there are days when you wish for eight extra arms to manage all the tough parts of family life. But what if you could lighten the load with fewer items thanks to the Volvo integrated booster seat? Clean. Convenient. Safe. The Volvo built-in booster seat is a cornerstone of the Volvo Cars commitment to child safety. And what's more, is that you don't have to have extra equipment in your hands to make it happen. Available in the new Volvo XC90 for sale (among others), we encourage you to read about this innovative Volvo Cars-exclusive feature.
The Volvo Built-in Booster Seat: A History
While the space race was well underway in the late '60s, another race for space was also happening on the ground. Volvo Cars engineers were examining Volvo vehicles' cabin space to determine where and how a child should be placed for maximum safety. While the rear-facing child seat was a first for Volvo Cars, the storied Volvo integrated booster cushion would soon follow.
But why develop the Volvo integrated booster seat in the first place?
As you know, children quickly outgrow their infant car seats but still require enhanced protection in the event of an impact. When the Volvo booster seat was developed, the world saw the introduction of child safety equipment that could be integrated into the vehicle for maximum efficiency and protection.
As the years went on, the Volvo Cars integrated booster cushion evolved right alongside the models that it was available in. Currently, you can have this safety technology added to the Volvo XC90, the Volvo XC60, and the new Volvo V90. While placement is typically available on either passenger corner, please note that the middle Volvo XC90 booster seat will be deleted if a six-seater configuration is chosen.
Volvo Integrated Booster Seat Safety: Clip-In vs. Built-In
As children grow, it's imperative that you seat them in safety devices for their height and weight. For instance, you wouldn't be allowed to legally transport an infant in a booster seat. Fortunately, there is equipment available from Volvo Cars that will protect your child until they are ready for the Volvo integrated booster seat.
You can shop Volvo accessories and filter your OEM car seat by vehicle, as well as your child's age and weight. Any of these Genuine Volvo Cars child seats, even the Volvo XC60 booster seat, are designed for optimal comfort, safety, and style precisely for your vehicle. Why fuss with equipment that you're unsure of? With the OEM car seats in this Volvo booster seat review, you can just clip in and go!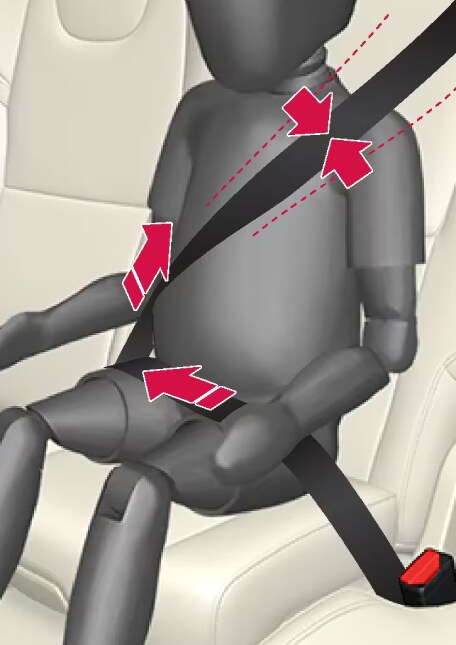 Volvo Integrated Booster Seat FAQs
In case you've found this page by alternate search queries, let's clear the air of fact, fiction, and available equipment.
Does Volvo Cars have built-in booster seats?
We sure do! Volvo Cars has been enhancing child safety for nearly 60 years. As a parent with plenty to do, you can make your life easier with equipment installed from the factory.
What Volvo models offer an integrated booster seat?
The Volvo integrated booster seat is currently available in the Volvo XC90, Volvo XC60, and Volvo V90. Keep in mind that the Volvo V90 booster seat has been offset behind both forward passenger seats, unlike earlier models that had it placed exclusively in the center.
How much does the Volvo built-in booster seat cost?
You can add on the Volvo XC90 integrated booster seat in this select model, and others, for about $300. Alternatively, you can also purchase car seats directly from Volvo Cars for about $500.
Save Space in Your Safe Space
The Volvo integrated booster seat obviates the need for extra equipment. Keep your hands free and your loved ones safe with equipment designed to make the most of your Volvo vehicle. You can even find a helpful Volvo integrated booster seat review online to see what other parents think!
If you're interested in more ways to protect your cabin and streamline load carrying, contact our Volvo Parts Center for lifestyle accessories, all-weather protection, and more. Here at Gunther Volvo Cars Coconut Creek, we'd love to see you explore all of the safety equipment from this innovative brand, including the Volvo car seat-even if that means installing OEM equipment that protects the actual vehicle that protects you!
View New Volvo Models For Sale In Coconut Creek, FL:
---