2023 Volvo S60 For Sale In Coconut Creek Near Fort Lauderdale, FL

Expand or Narrow Your Volvo S60 Inventory Search Using These Convenient Quick Links:
An Overview Of The New Volvo S60 for Sale
A new Volvo S60 for sale introduces a new definition of luxury sports sedans. This masterful vehicle is primed for agility yet is superbly spacious on the inside. It thrills with heightened performance yet takes care of the environment with a focus on sustainability. It's tailored for exclusive luxury and a safe, confidence-inspiring ride that'll have you breathing easy on every drive. With stunning style and high-tech benefits throughout, a new Volvo S60 for sale is ready to satisfy.
What's New About The 2023 Volvo S60?
As 2022 saw a major update, this year's new Volvo S60 for sale focuses on further refinement. Specifically, 2023 Volvo S60 updates include new trim levels (jump to our "trims" section to learn more), styling changes on the front and rear bumper to enhance the sleek looks, new wheel options, the inclusion of Google built-in infotainment services on all models, and new colors like Bright Dusk and Silver Dawn.
With enhanced options and packages available for your choosing, the new Volvo S60 for sale will make every drive in Coconut Creek, Fl, an experience worth remembering.
The Sleek Design of a New Volvo S60 for Sale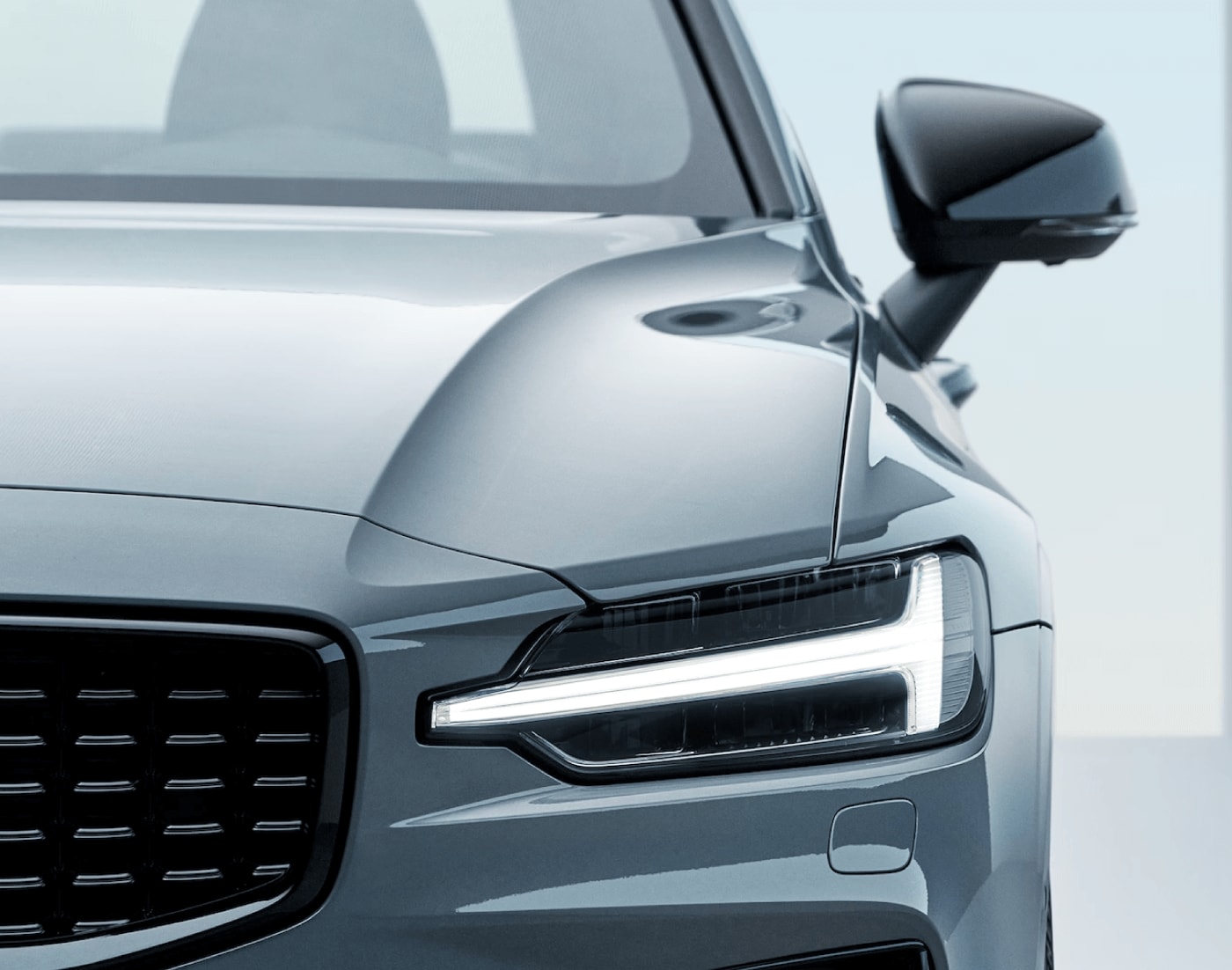 Volvo S60 Exterior Design
In a word, the exterior of a new Volvo S60 for sale is "sleek." This compact sedan is perfectly proportioned, drawn out with swooping body lines that flow like Sweden's many picturesque rivers. The Volvo S60 is not meant to be an overly flashy ride; it instead focuses on subtle beauty.
A new Volvo S60 for sale forms its head-turning style through a harmony of many intricate details.
The Thor's Hammer headlights look like a valley surrounded by front-fascia mountains. The inner LED bar points to the grille. The intricate grille insert creates a sea of visual interest, and the beach is a raised grille surround that makes it all pop. The muscular hood, sloping rear roofline, organic door curves, and many more styling cues will be a joy to explore.
Also, it's a joy to customize. You can make it your own with a chrome-laden Bright styling theme, stealthy and sporty beauty with a Dark styling theme, or full blackout looks with a Black Edition package. 18- or 19-inch alloy wheels are the finishing touch and can come in designs like five-triple spoke diamond cut wheels.
Volvo S60 Interior Design
Step into a new Volvo S60 for sale, and that same spirit of premium details making a complete luxury experience will greet you. Firstly, both a new and used Volvo S60 will be designed with a five-seat interior. Across every seat in the new model, intricacy makes for a wow-worthy look. The seat back padding is designed to keep you in place while unleashing the performance, yet tailored to keep you relaxed with plush comfort on calmer cruises.
As you take your seat, the dashboard will show you how minimalism and classical detailing can live in perfect harmony. The clean and sleek dashboard is accented by high-end materials like brushed aluminum or genuine limewood. Take a closer look to find knurled metal knobs, tailored upholstery, a jewelry-like finish on tactile controls, an available handmade Orrefors® crystal gear shifter, and many more visual teats.
Everything flows together. Highlighted by standard mid-level interior ambient lighting and upholstery options like Blond City Weave Textile, Maroon Brown leather, Charcoal vegan leather, or Charcoal Nappa leather, the interior of a new Volvo S60 for sale is a stunning experience.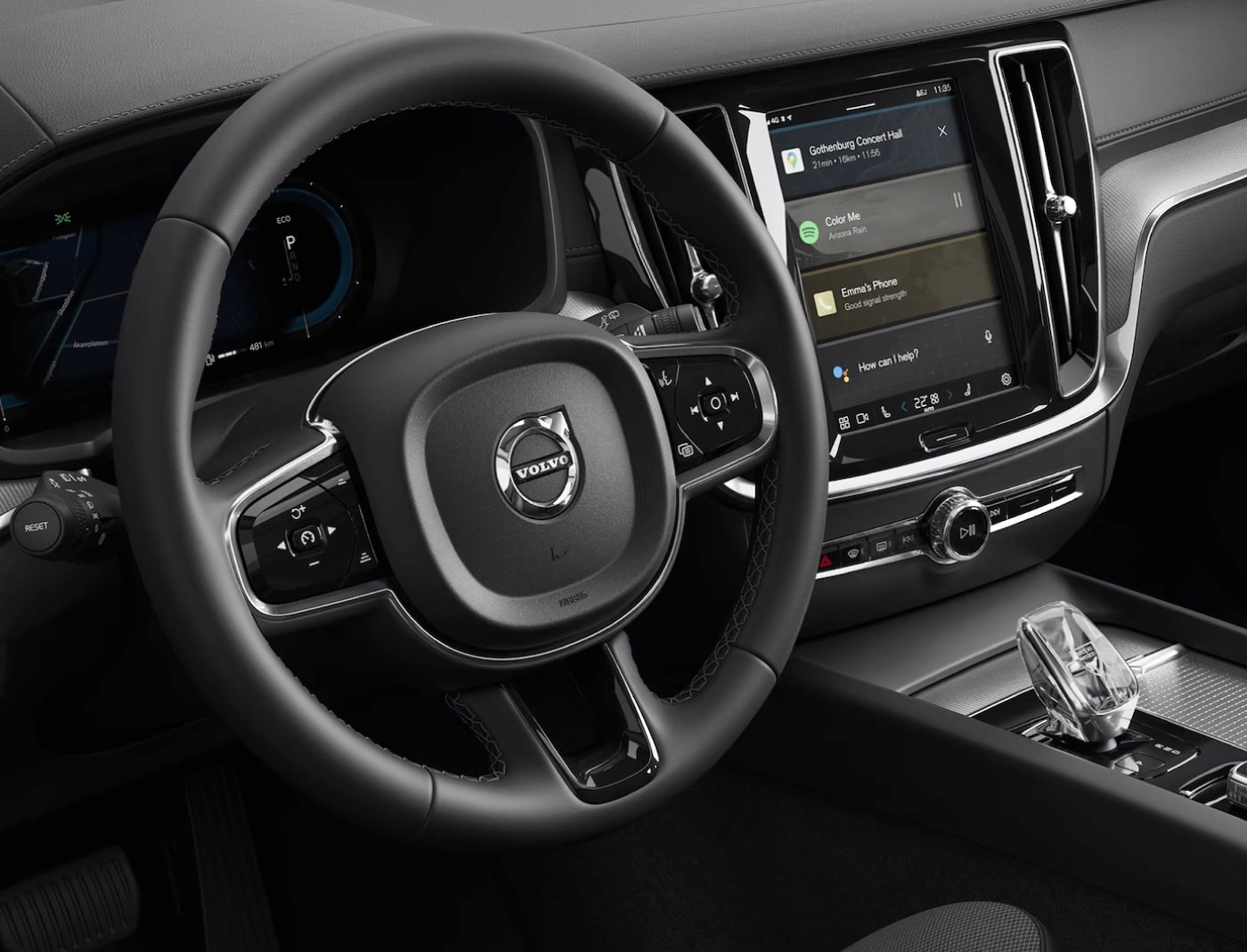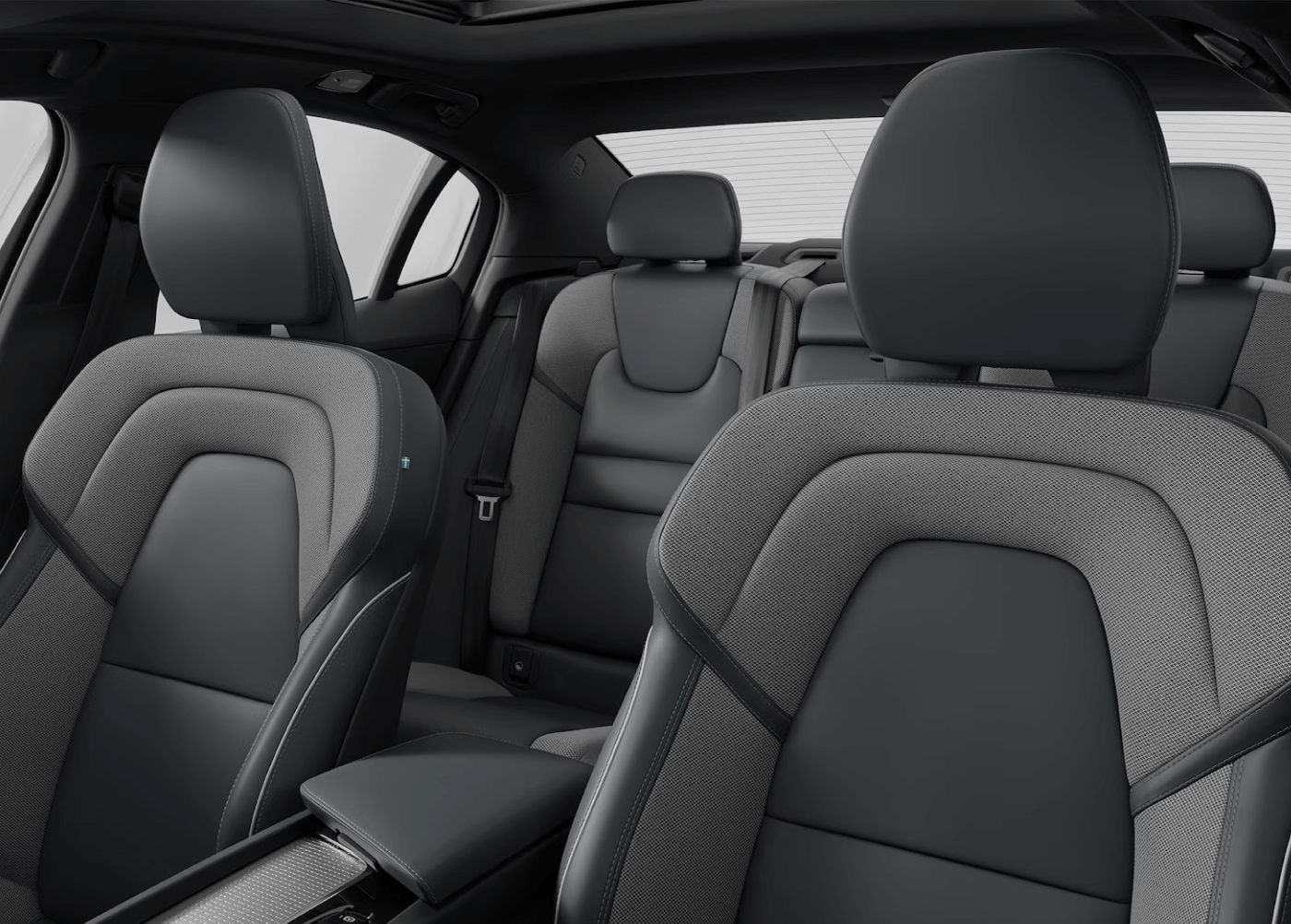 Volvo S60 Interior Comfort
No matter which of our Volvo S60 lease specials you choose, satisfying interior comfort and luxury join the stunning style. Even in the base-level Volvo S60 Core, you can expect the new Volvo S60 for sale to come with standard City Weave Textile or leatherette upholstery. The seats provide several adjustment possibilities.
Standard two-zone auto climate control will keep the cabin perfectly conditioned, even if one passenger wants it warmer while you want it cooler. A standard panoramic moonroof lets you unwind with an airy atmosphere, and with available upgrades like heated and ventilated front seats, getting comfortable in a new Volvo S60 for sale is an effortless task.
Cabin space is one of the most important comforts on long drives. On the inside, the roomy Volvo S60 dimensions treat you with:
Headroom (front/rear - inches): 37.4 / 37.2
Legroom (front/rear - inches): 42.3 / 35.2
Volvo S60 Accessories
The new Volvo S60 is a stylish work of art that is as functional as it is beautiful. But sometimes, your lifestyle calls for enhanced practicality or personalized style to stand out on roads near Fort Lauderdale, FL. In such cases, you can find many Volvo accessories designed to take your new Volvo S60 further.
On the outside, you can add a high-quality roof-mounted aluminum bike or ski carrier, an aerodynamic roof box with secure locking, or specialized load-carrying bars. You can order specific wheel designs that may not have been available on your chosen configuration, too.
Accessorize the interior with enhanced comfort and style. A new Volvo S60 for sale can be accessorized with a high-quality Nubuck headrest pillow made in part from recycled microfiber and plant-based materials. You can add a similar neck rest pillow or place a set of tufted fabric or all-weather floor mats for added cabin protection and style.
From wood key fob shells to rear seat Apple iPad® holders, a new Volvo S60 for sale can be customized with a great array of premium accessories.
The Technology In A New Volvo S60 for Sale
Touch Screens / Media Displays
A Volvo S60 review isn't complete without exploring how advanced this Swedish sedan is. That advanced array of technology begins, from your perspective as a driver, with the screens and displays. You'll immediately notice the fully-digital gauge cluster as you grab the steering wheel. It's a 12-inch digital instrument display with adjustable modes and intuitive data readouts and controls. Constant updates are displayed to keep you up-to-date on all the driving info you need.
Look down and to your right to find the nine-inch center touchscreen display. This screen is the heart of the infotainment system, coming loaded with Google built-in services and apps like Google Assistant™ and Google Maps. An intuitive lower section gives immediate access to the features you use most. While Google services represent the cutting-edge, you may want to connect your Apple iPhone to your Volvo S60. Apple CarPlay® comes standard to let you do precisely that.
Advanced Features
Screens and displays are far from all that's cutting-edge in a new Volvo S60 for sale. For example, the climate control uses high-tech sensors to determine air quality and automatically shuts the vents when hazardous air conditions are detected. The power steering is another example; it adjusts the steering feedback automatically (or as determined by your manual inputs) to provide a firmer, sportier feel or a more relaxing and soft steering experience.
Standard automatic engine start/stop technology helps save fuel, intuitive steering wheel controls let you command the many other features while focusing on the road, an available head-up display creates a fighter-jet-like driving experience, a 360-degree camera system lets you easily see your surroundings, and many more cutting-edge features can be found in a new Volvo S60 for sale.
Volvo Cars App Connectivity
Like all other new Volvo cars, a new Volvo S60 comes standard with advanced remote connectivity through the Volvo Cars App. A four-year subscription to the Volvo Cars App is included with every new Volvo S60 for sale, putting exceptional convenience in the palm of your hand.
Please check the official Volvo Cars website to see if your smartphone is compatible.
If it is, you'll be able to access powerful features from your device. These features that work with a new Volvo S60 for sale include remote engine start and climate control pre-climatization so that you can walk into the perfect cabin temperature, remote door lock/unlock for peace of mind and access in case your key fob battery dies, vehicle status indication to keep an eye on your Volvo S60 sedan's health, and more.
The Performance Of a New Volvo S60 for Sale
| | 2023 Volvo S60 B5 FWD |
| --- | --- |
| Starting MSRP3 | Starting at $41,300 MSRP |
| Engine | Direct Injected 2.0-Liter Turbocharged Engine |
| Horsepower | 247 hp |
| Torque | 258 lb-ft |
| Transmission | 8-Speed Automatic |
| Fuel Economy Combined1 | 30 |
| Fuel Tank Capacity | 15.9 gal. |
| Fuel Type | Gasoline |
| Storage/Cargo Volume | 11.6 cu.ft. |
| Towing Capacity (When properly equipped) | 2,000 lbs |
| Seats | 5 seats |
| Dimensions H/L/W | 56.6 in./187.4 in./80.3 in. |
The Trim Levels Of A New Volvo S60 for Sale
Discover the Volvo S60 price per trim and what's included below.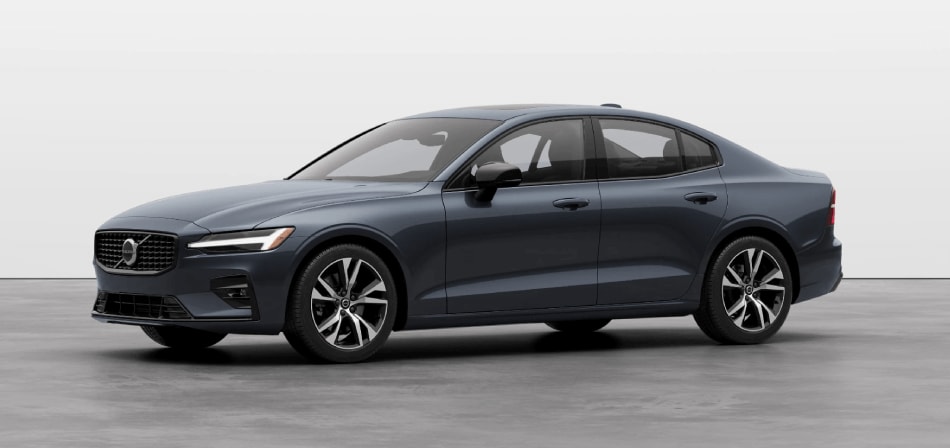 2023 Volvo S60 Core
---
Starting price of $41,300 MSRP.2 The base-trim new Volvo S60 for sale defies entry-level expectations. Standard features include a panoramic moonroof, Iron Ore aluminum interior trim, mid-level interior illumination, City Weave textile or leatherette upholstery, two-zone auto climate control, a 12-inch digital instrument panel, a nine-inch touchscreen infotainment system, a ten-speaker sound system, blind-spot monitoring, 18-inch alloy wheels, and more.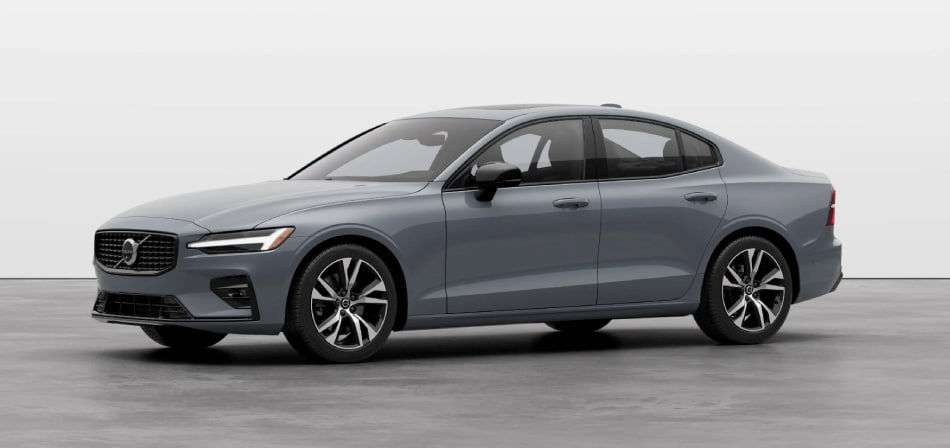 2023 Volvo S60 Plus
---
Starting price of $44,000 MSRP.2 The Plus-trim new Volvo S60 for sale includes Core-trim features and many upgrades. Specifically, this trim adds standard adaptive cruise control with the Volvo Pilot Assist, a 360-degree camera system, parking assistance for the front, rear, and sides, Linear Limewood interior trim, leather upholstery, high-level interior illumination, one-touch-fold rear seat backrests, and more.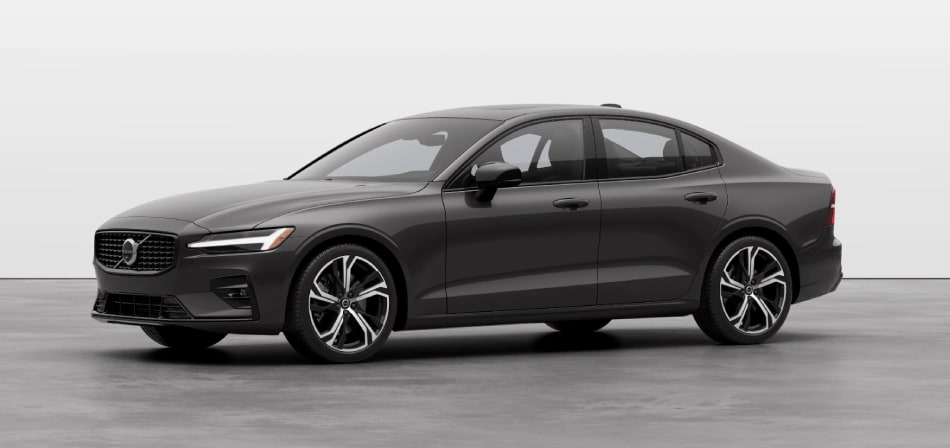 2023 Volvo S60 Ultimate
---
Starting price of $46,750 MSRP.2 The Ultimate-trim new Volvo S60 for sale adds even more to the Plus trim's roster of features. Standard upgrades include a 14-speaker Harman Kardon® premium sound system with an air-ventilate subwoofer, four-zone auto climate control with CleanZone, enhanced lumbar support, a power driver's seat cushion extension, a head-up display, a tailored dashboard, 19-inch alloy wheels, and more.
2023 Volvo S60 Colors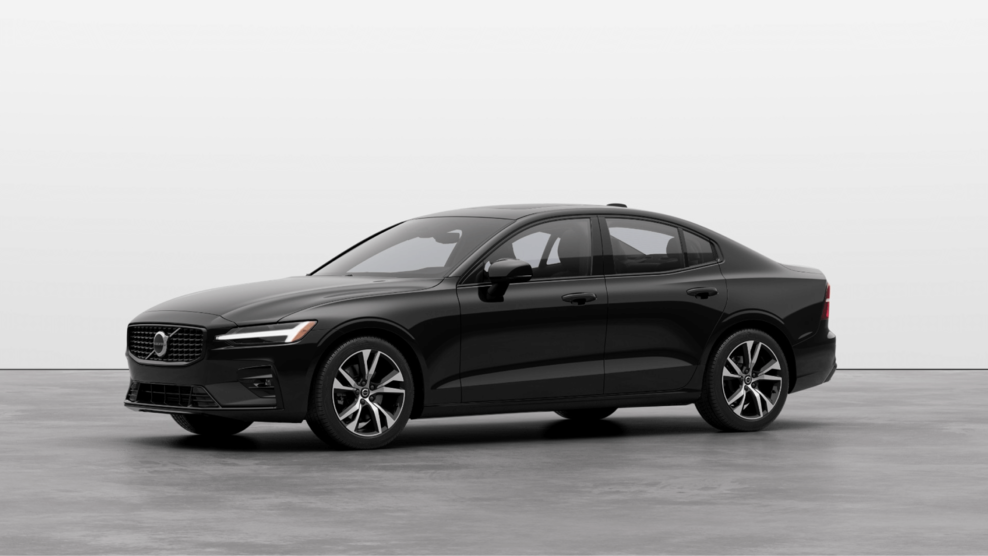 How Safe Is A New Volvo S60 for Sale?
Very. The previous model year earned an IIHS Top Safety Pick+ rating,3 and with even more safety features inside this year's model, we expect similarly-impressive results. Here's what helps the new Volvo S60 for sale protect you and inspire confidence.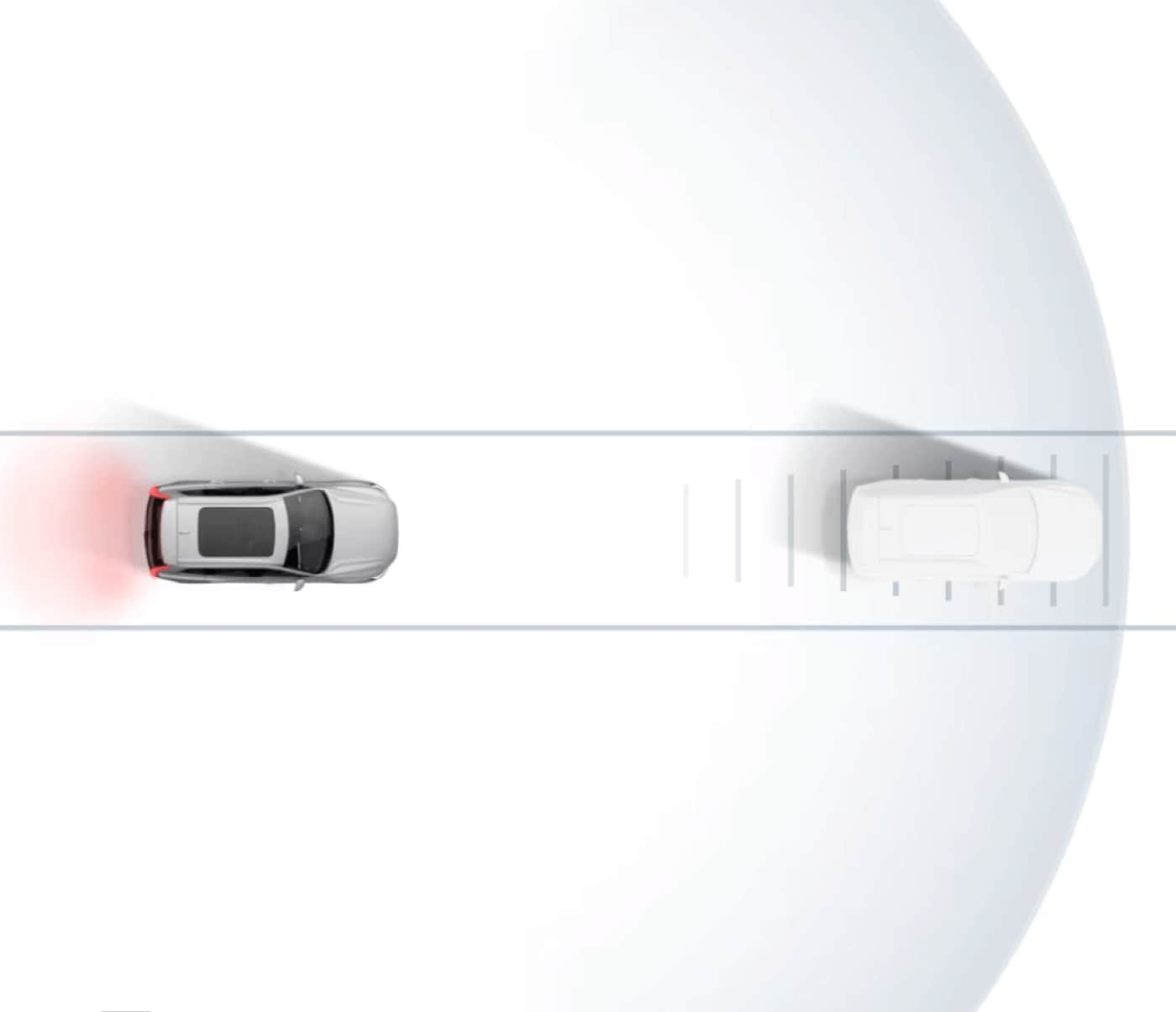 Driver Assistance Features
The complete list of driver assistance features available in a new Volvo S60 for sale is immense. Let's start by looking at the standard driver assistance features in the Core trim:
Blind-spot monitoring with a cross-traffic alert
Lane keeping aid with steering assistance
Oncoming collision mitigation with steering assistance
Rain-sensing windshield wipers
Slippery road detection
Road sign display
Rearview camera
But that's far from all. A new Volvo S60 for sale can treat you to many more safety features as you move up the trim levels or add on optional packages. Here are some great available driver assistance features you can add to a Volvo S60:
Adaptive cruise control
Volvo Pilot Assist (semi-autonomous driving capabilities)
360-degree camera monitoring
Head-up display
Parking Assistance
Safety requires more than just protection at speed while on the road. To protect even as you park, a new Volvo S60 for sale comes standard with rear parking assistance. This feature helps with tight parking spaces by alerting you to objects approaching your rear bumper via the infotainment display and speaker-based sounds, and it can automatically brake if you get too close.
While this assistance is only for the rear end in the Core trim, the Plus trim adds front and side assistance as standard. This enhanced proximity monitoring system uses all speakers to paint the picture of obstacles surrounding your Volvo S60, making even the tightest parking jobs a less-stressful experience.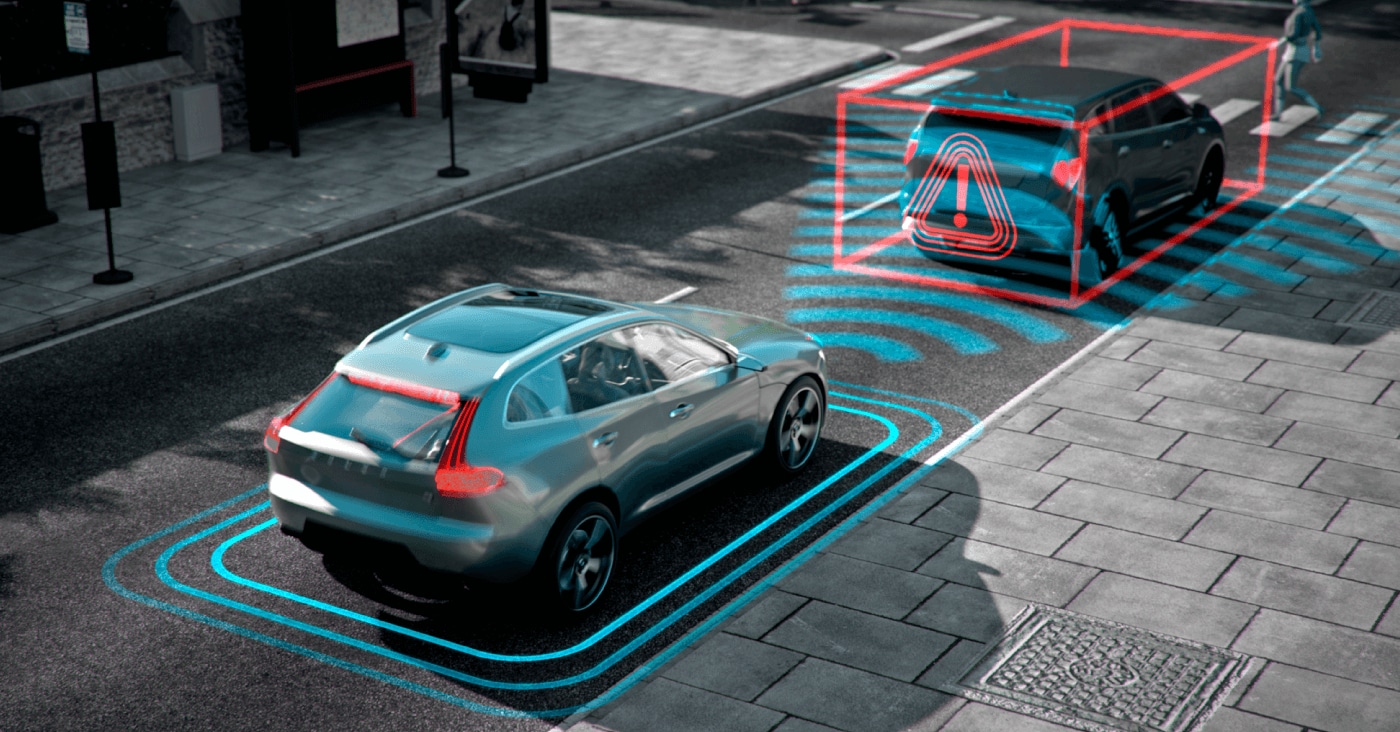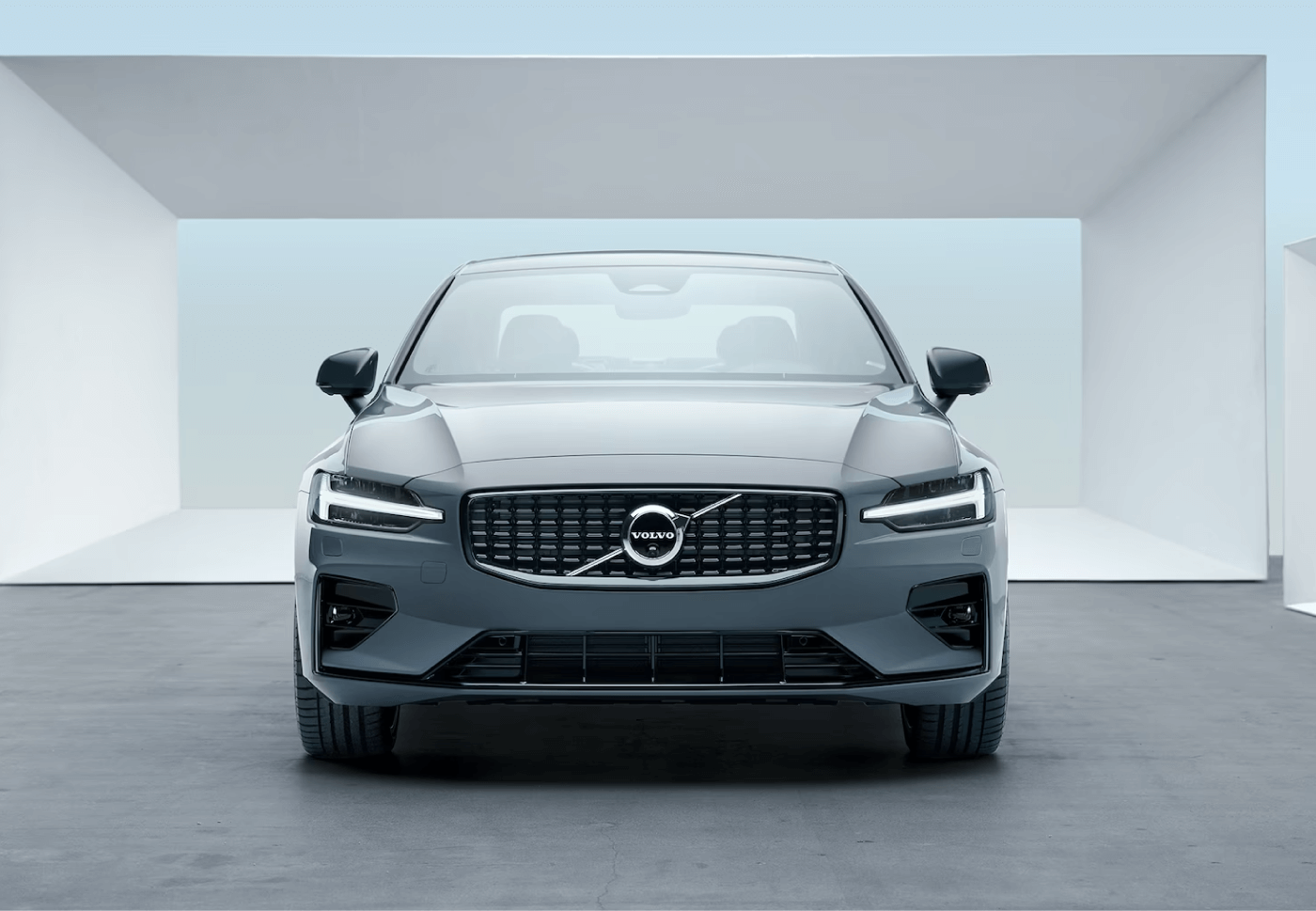 Reliability & Engineering
A new Volvo S60 for sale protects your vehicular investment, too. It is a reliable sedan that was born from the brand's iconic history of dependability, letting you enjoy full peace of mind every time you get behind the sleek steering wheel. You may even end up handing it down to future drivers in your family; all the driver assistance technology will let you breathe easy if so.
But what's more important than a vehicle helping you avoid danger? One that uses intelligent engineering to protect in the worst-case scenario. A new Volvo S60 for sale does both.
The seats help reduce whiplash in an accident, the frame is designed with several high-strength steel grades to mitigate impact force, the side structure works with curtain airbags to disperse said force away from occupants, the tempered side windows are designed to stay together in an accident, and many more inherent engineering feats make every new Volvo S60 for sale a confidence-inspiring ride.
The Warranty Coverage Of A New Volvo S60 for Sale
Warranty
With a new Volvo S60, or any of our Volvo lease specials, generous warranty coverage backs the model's reliability.
Volvo Cars wants you to enjoy the ride without worry and with a fully-satisfying experience as the miles roll on. So, to start, a new Volvo S60 for sale will come with a four-year / 50,000-miles (whichever comes first) bumper-to-bumper limited warranty4 that covers most components on the vehicle. Next, the Volvo S60 includes a 12-year / unlimited-mile corrosion warranty to protect against holes or damage caused by rust.4
An eight-year / 80,000-mile (whichever comes first) federal emissions warranty provides long-lasting coverage for emissions-related components like the catalytic converter.4 All warranty coverages include nationwide dealer service4 for convenient and best-quality repairs. But what about the regular maintenance service that's a part of vehicle ownership? Volvo Cars has you covered.
Maintenance Coverage
With every new Volvo S60 for sale, or other models like a new Volvo S90, you can expect the Factory Scheduled Maintenance program's coverage to come standard so that you can keep up with maintenance without worry.
Specifically, the first three scheduled maintenance services (at 10,000, 20,000, and 30,000 miles) will be covered and performed for no charge within three years or 36,000 miles after you take delivery of your new Volvo S60.4 So enjoy it fully, knowing that we'll help keep your Volvo S60 at its best for no cost.4 And for even more enjoyment, we can pick up, service, and return your Volvo S60 without interrupting your day when you sign up for the Volvo Valet Program.5
Compare A New Volvo S60 for Sale To The Competition
The new Volvo S60 for sale doesn't exist in a bubble. Here's how it rises above the competition.
2023 Volvo S60 Vs. Audi A4
A new Volvo S60 for sale is impressive, and as you compare it to the premier German-made sedans, it gets more impressive. Specifically, we can see that the Audi A4 has less power and lower fuel efficiency. The standard-configuration 2023 Volvo S60 has 247 horsepower and an EPA-estimated 26 / 35 / 30 MPG (city/highway/combined);1 the standard-configuration 2023 Audi A4 only has 201 horsepower and an EPA-estimated 24 / 33 / 28 MPG (city/highway/combined).6
2023 Volvo S60 Vs. BMW 3 Series
A new Volvo S60 for sale holds its ground against BMW's 3 Series, too. For starters, the 2023 BMW 330i delivers up to an EPA-estimated EPA-estimated 25 / 34 / 29 MPG (city/highway/combined);6 less than the 2023 Volvo S60. The Volvo S60 also has an extra 0.3 inches of front legroom over the BMW 330i. The Volvo S60 offers a standard panoramic moonroof, while the BMW 330i has a sunroof as an optional upgrade.
2023 Volvo S60 Vs. Mercedes-Benz C 300
As we discussed in the technology section, the 2023 Volvo S60 gives you a four-year subscription to the Volvo Cars App, providing features like remote start and more. The Mercedes-Benz C 300 has a similar remote app called "Mercedes me," but only includes a one-year subscription to its services. As well, the Mercedes-Benz C 300 does not have standard Google built-in services or an available four-zone climate control system.
Frequently Asked Questions
Is Volvo Cars discontinuing the Volvo S60?
No, the Volvo S60 is not being discontinued. Rumors of this discontinuation swirled due to the Volvo S60 being removed from the brand's Indian market lineup, but in North America, the sleek luxury sedan will continue to be on sale and more attractive than ever.
What's new in 2023 Volvo S60?
The 2023 Volvo S60 introduces new styling cues like a tweaked front and rear bumper, new paint options like Bright Dusk, new wheel designs, new trim levels (Core, Plus, and Ultimate), new styling themes (Bright, Dark, or Black Edition), and new packages.
How much is a 2023 Volvo S60?
The price of a 2023 Volvo S60 varies by trim and configuration, but the base-trim 2023 Volvo S60 Core comes in with a starting price of $41,300 MSRP.2 The upgraded 2023 Volvo S60 Plus will have a starting price of $44,000 MSRP,2 and the top-of-the-line 2023 Volvo S60 Ultimate has a starting price of $46,750 MSRP.2
What car is the Volvo S60 comparable to?
The Volvo S60 is comparable to many compact luxury sedans. Comparable cars to the Volvo S60 include the Alfa Romeo Giulia, Audi A4, BMW 3 Series, Genesis G70, and the Mercedes-Benz C 300. However, a new Volvo S60 for sale exceeds its competition in many ways. For example, it has more MPGs and standard power than the Audi A4, and a standard panoramic moonroof, which the BMW 3 Series lacks.
What are the different trims of Volvo S60?
The new Volvo S60 for sale is available in three different trims: Core, Plus, and Ultimate, each of which offers immensely-desirable standard features. However, it can also be configured with Bright or Dark themes and a special Black Edition package for enhanced style.
Volvo S60 Reviews
Nickson Senatus
01.03.2022

Awesome dealership! Shoutout to John for hooking me up with the Denium Blue R-design s60. Been getting more girls with it 🔥 …

View Other New Volvo Cars for Sale Near Fort Lauderdale, FL:
---
1
For more information, please visit the official US government source for all fuel economy at www.fueleconomy.gov.
2
Prices shown are Manufacturer's Suggested Retail Price (MSRP), Base Price or Starting At price and excludes destination fees, taxes, title, license, and registration and/or electronic filing fees, dealer fees.
3
Reference to this third-party claim is solely for informational purposes and not to be relied upon. For details regarding this award, visit https://www.iihs.org/ratings/vehicle/Volvo/s60-4-door-sedan/2022
4Warranties listed on this webpage shall not be solely relied upon. Warranties may be subject to specific terms, restrictions, exclusions, and fees. Additional warranty information may be obtained by visiting the official website of the warranty provider. Contact our dealership for complete details.
5Volvo Valet is only available at participating retailers. Loaner vehicles are subject to dealer availability and policies.
624 city/33 highway/28 combined city/hwy MPG for 2023 Audi A4. EPA estimates. Your mileage will vary and depends on several factors including your driving habits and vehicle condition.
6Preliminary EPA-estimated figures are for comparison purposes only. Your actual mileage will vary, depending on speed, driving habits, trip length and driving conditions; actual mileage may be lower. Note for MPGe: All data are provisional and subject to official confirmation. The provisional power consumption figures have been calculated based on the ECE test cycle.