At the Gunther Collision Center in Coconut Creek, FL, we understand that service is more than just a word. At our do-it-all car and car care center, we truly believe in repairing both your car and your mindset when your car needs to be fixed up. Our Volvo body repair professionals at our Volvo certified body shop know that car repair can be an intimidating prospect. That's why they step up to the plate every day for local drivers in need of Volvo certified collision repair, parts, and regular maintenance.

Your One-Stop Volvo Collision Center
Getting some damage to your car while out on the road can be a scary and overwhelming experience. Our staff of friendly car lovers will understand this and will treat your car with the utmost care while also making sure the process is hassle-free for you. The last thing you need after a car collision is to have more stress added to your plate. That's why our talented team makes it as easy as possible to schedule service online, over the phone, or even in person here in Coconut Creek, FL.
Startled by an ugly scratch that came from somebody in the parking garage while you were upstairs at the dentist's? Our Volvo auto body repair team can diagnose what's wrong and find a remedy that keeps you and your car safe going forward. They handle dents, scratches, and all types of bumps and bruises that local drivers run into out on the road. To return your car to a spotless condition or get a real assessment and solution when a problem has struck your car, reach out to our certified collision repair shop: the Gunther Collision Center.
At the Gunther Volvo service center, our Gunther Collision Center and parts department come together to form a dream team for drivers. Whenever trouble strikes, our entire team is there to be a useful resource and to return you to the road safe and sound.
Have you ever been down in the doldrums of your daily commute, only to sink even further when that annoying check engine light comes on? Bring your car immediately down to our service center, and we'll diagnose whatever the problem is under your hood. Before you know it, we'll lay out the solution to your particular car predicament and have you back out checking off to-do's in record time. Nobody wants to spend all day waiting for their car to be back to the way it always should be, so come trust the experts who care just as much about the people who drive the cars as they do about the cars.
Neighbors Serving Neighbors
As soon as you walk through the doors at the Gunther Collision Center, you'll understand what separates our service staff from the rest. We're committed to our customers completely, and you'll receive focused, undivided, and excited attention whenever you visit our showroom. We truly appreciate everyone who comes to our service and parts department and hope that the next time you're in a pinch out on the road, you'll give us a call.
In the meantime, our amazing team of I-CAR-certified professionals will continue to work together to send cars and happy drivers back out onto the road, courtesy of the Gunther Collision Center.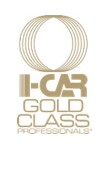 I-CAR Gold Class Professionals
Earlier, we touched on the fact that we hold I-CAR certifications, but what does that mean to you? This symbol's status means that our service center has received an astronomical level of technical training in auto body restoration and collision repair. Seeing the I-CAR certification means you can expect a certain level of quality to accompany your request.
Book a repair near Fort Lauderdale, South Florida
, now to get in touch with a team you can trust!